I'm almost back to normal after these last two weeks have seen my bank balance take a serious battering. There were weddings to attend, family functions, clothes to buy, nights off to watch England progress in the World Cup, general day to day living expenses all requiring money that wasn't being earned for one reason or another. But I'm now focussed and raring to go!! Not.

I did two shifts today. The first one was only a few hours long as I wanted to watch the Spain V France game. I was mostly over on the east side of town and took the opportunity to visit the Beigel Shop in Brick Lane. I had a cream cheese and salmon beigel ( I thought it was spelt bagel!) and it tasted pukka!!!!



Beigel Shop, Brick Lane
I was eavesdropping on a conversation, as one does, and wished I had a tape recorder with me. These two ladies were discussing their sexual exploits and were using language that even an old seadog like me felt uncomfortable with (did I ever mention I used to be in the merchant navy?) I don't know what it is about posh people but they seem to think that when they get in a cab it's ok to talk like a sewer because the cabbie is bound to be common and used to such language. Well I wouldn't say I was common, well not too common, and I am used to the language but not from people like them and I almost said something to them. I can't think of a dirty word they never used and as this is a family site (ha ha) I won't repeat what they said but needless to say it was disgusting.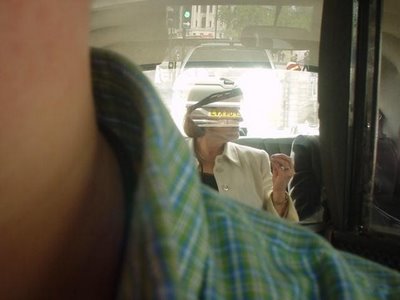 Sex talk
Talking of sex this next picture is of Sussex Gardens in the Paddington district. Who would think that this lovely tree-lined street, which by day is busy with tourists coming and going about their business, turns into a sleazy red light zone which is crawling with prostitutes as soon as the sun sets? During the course of my work I've had to approach many of these girls and ask how much they charge for their services for the guy in the back who's too much of a pussy to ask for himself. I don't mind asking as long as they make it worth my while but I draw the line at letting any sexual activity take place in the cab. I don't want no bodily fluids on my back seat.
Sussex Gardens By Day
There are still thousands of cars and taxis driving around with the English flag flying from some part of the vehicle. I must admit as England progress through the tournament I'm tempted to put a couple of flags up myself. We play Portugal on Saturday and I think the country is starting to believe we can go all the way. I concur.
Flying The Flag of St. George

COME ON ENGLAND!!!!!!!!!!!